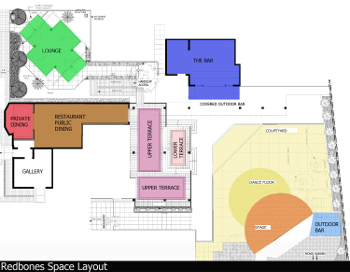 At Redbones we strive to make your experience a memorable one by custom tailoring all aspects of your special occasion for you and your guests.  Our venue is ideal for hosting executive dinners, birthdays, weddings, reunions, launches and media events to name a few.
Our Private Dining Room is ideal for parties up to 12 people and is set apart from the main dining area and equipped with its own volume control and A/C.
For larger parties we can arrange for our indoor Main Dining Room to be made private thus creating an intimate environment for groups of up to 35 people. Additionally this room can be used for a combination cocktail and dinner event.
The elevated Terrace is for those who crave the open air atmosphere of tropical living, that can be either "light & lunchtime airy" or "night-time romantic.  Backed by a handworked Mineral Life wall and overlooking our central courtyard, this area can seat up to 70 people.
For parties of up to 120 people, we offer the enchanting and secluded setting of our "Movie Garden".  This open-air lawn area boasts its own private bar.
Our cozy Main Bar has its ceilings studded with vinyl and walls packed with photos of those famous and not so famous clientele, musicians, poets and artists that have been a part of the Redbones experience.  Our Head Bartender would be happy to create specialty cocktails for you and up to 20 of your friends.
For stylish but laid-back relaxation, our Lounge offers couches in a raised gazebo that provides absolute privacy.  It's the perfect setting for a bachelorette, birthday, or cocktail of up to 40 people.  It can also accommodate private dining for up to 18 people.
Our central Courtyard borders the dancefloor, the stage and the bar and really comes alive when accompanied with live music.   It's the perfect area for album, book or other product/event launches.  When use of the stage and PA system are a must, this alluring area is perfect for groups of up to 250 people.
Redbones also offers the option of a Full Venue rental for parties up to 400 people.
Please contact our Redbones event team for additional details and all our private dining options or to setup a tour of our space at (876) 978-6091 or by email: redbonescafe@gmail.com

If you would like to submit a request online, please click here